RESCUE 24 - INTERNATIONAL SPECIAL RESCUE TEAM
Rescue 24 is Hungarian Baptist Aid's special international rescue team with a national certification. Its mission is to "Rescue on ground, on water and in the air!" 
RESCUE 24 

International special rescue team
Hungarian Baptist Aid also coordinates an international rescue team as the 'Baptist World Aid Rescue24 International Team' does not only consist of national workers and volunteers, but has members from USA, Australia, Indonesia, Singapore, Germany, Netherlands, Japan, Malaysia and the Czech Republic.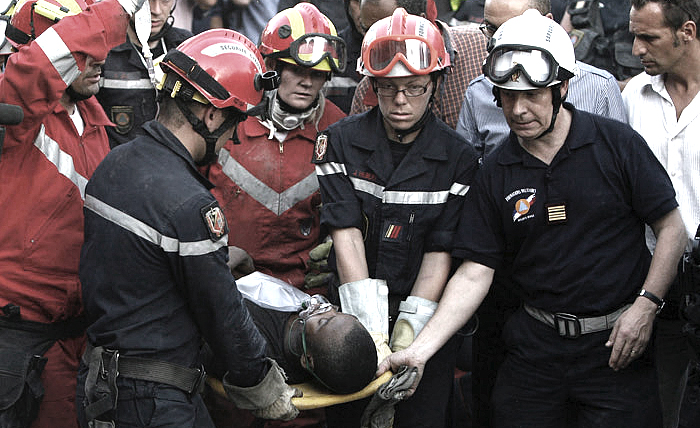 Photo: EPA/David Fernandez, 

Source

: http://neoskosmos.com/news/en/Greek-Haiti-rescue
The tasks performed by the service are:
Rescue diving, lifeguarding, rescue ship services
High-to-low rescue operations using alpine technology, air ambulances, mountain and cave rescues
Technical tasks, technical rescue
Helps with rescue dogs
Healthcare missions
The leader of Rescue 24 is László PAVELCZE, director of emergency management
László PAVELCZE, director of emergency management took part in 50 internatonal operations so far in different dangerous parts of the world.
He used to be a lively child and a rebellious child. His head teacher said that he would end up in the television show called 'Kék fény' (which is a Hungarian police report show with criminals). It became true, but not as the teacher originally meant. After graduating from school, Mr Pavelcze started working as a utility worker in the laundry and later on in the kitchen at the hospital in Székesfehérvár. He also worked as a driver for patients, surgery assistant, nursing assistant and in the ambulance. As he tried to acquire qualifications for each rescue field, he founded the special rescue team. The team's first major mission was at the rail accident in Szajol. His staff are fulltime professional paramedics, firefighters, who work in the rescue team as volunteers during their leave and spare time. Rescue 24 rescue team is under Hungarian control, and it has teams in 7 other countries. That is why it can be deployed within hours also in the most remote areas in the world.
"There are no disasters alike, and there are no nations who react the same in a catastrophe. While in Colombia everyone expercted someone to clean up the ruins, the people in Turkey wanted to help. In the States, Hurricane Katrina caused tremendous schock, but all the public bodies and authorities were in their place." - he said. He often thought about quit his job, but there was always another phonecall to go.
So far Rescue24's deployments were:
India, Gujarat - earthquake
Hungary - flood
Ukraine - flood
2002
Hungary - flood
2003
Iran, Bam - earthquake
2004
Sri Lanka, Colombo and Galle - tsunami
2005
Indonesia, Banda Aceh - tsunami
Indonesia, Nias - earthquake
United States, New Orleans - hurricane
Pakistan, Bagh - earthquake
Romania, Transylvania - flood
2006
Hungary - flood
Serbia, Vojvodina - flood
Indonesia, Yogjakarta - earthquake
Lebanon, Beirut - war events